The creation of Crema Brew is much like a carefully-crafted coffee. Every element of the coffee bean (its country of origin, the altitude and temperature range it is grown in, the drying, roasting and brewing processes) all come together in an exquisite dance to make your morning sip of coffee something to anticipate. Thus is the story of Crema Brew.
About the Owners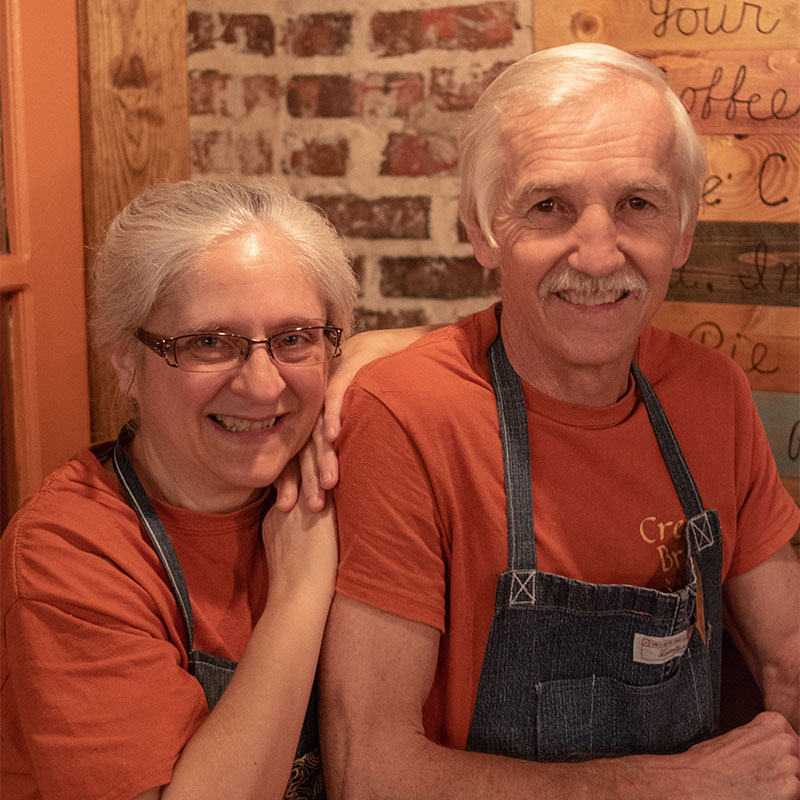 Back in the late 70's, a young Alaska girl, having just transitioned to Oregon, was noticed by a bleach-blonde young man who spent his days driving nails. This was the beginning of a lasting relationship that is still in process, the journey of Donovan and Roxanne Zook.
As a young couple, we were known to drive a half hour just to enjoy a late-night date at Shari's (McMinnville, Oregon). One of the vital components of our marriage is quality time, and Donovan has led the way in making sure this happens—a time when the daily things of life are momentarily pushed aside so we can connect over coffee.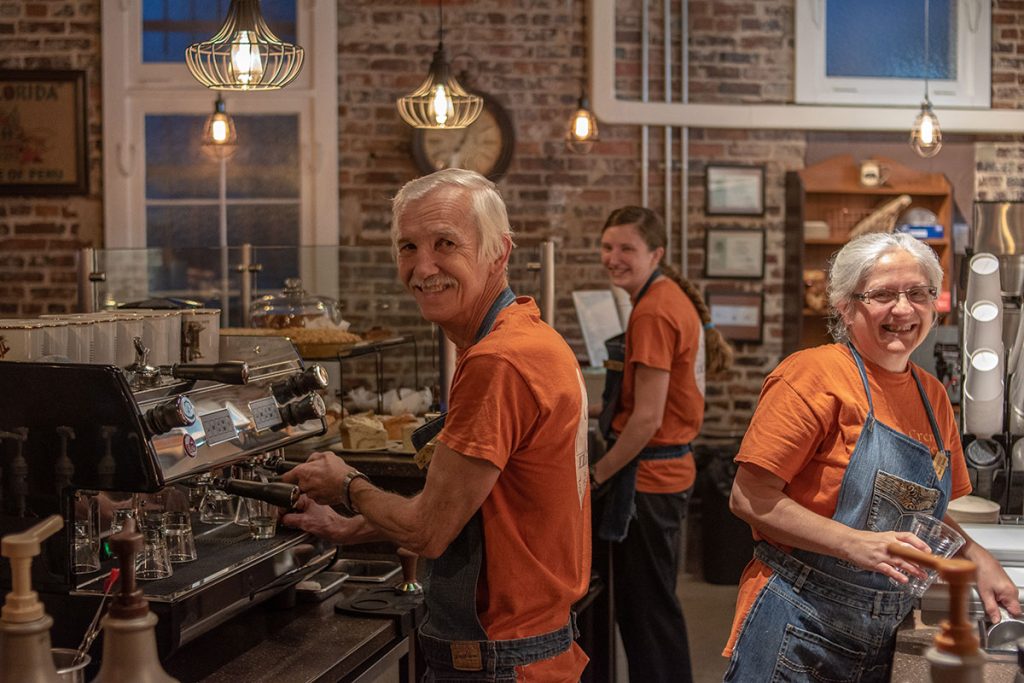 In recent years, our home echoed with the peal of laughter while hosting a weekly neighborhood gathering called Coffee Talks. It is amazing how in sharing a good cup of coffee, doors to deeper communication swing open.
We can't say with definite clarity when we first thought of opening a coffee shop nor when this God-sized dream entered our world. You see, Crema Brew has all along been way bigger than us! Our employments have been in social work and waitressing, not crafting drinks as a barista. But, apparently God likes coffee and we began putting feet behind the dream.
Beyond our Biggest Dreams
From the beginning, our daughter, Regina, has poured herself into the vision and fruition of Crema Brew, working long hours alongside her father, recreating a dilapidated building into a place of beauty. It was such an honor for the three of us to work together and see this dream become a reality!
And now that our doors have opened, Crema Brew is a much richer coffeehouse for having Regina on the premises; her sweet presence brings a bright spot that no one else can fill! And then God surprised us, big-time!! He brought a southern gentleman into her life who risked it all to move north, resettle in New Bern, claim his bride, AND become an integral part of our Crema Brew family! Austin and Regina, you both are deeply appreciated! [Beautiful Side Note: a Little One is on the way!]

Coffeehouse in New Bern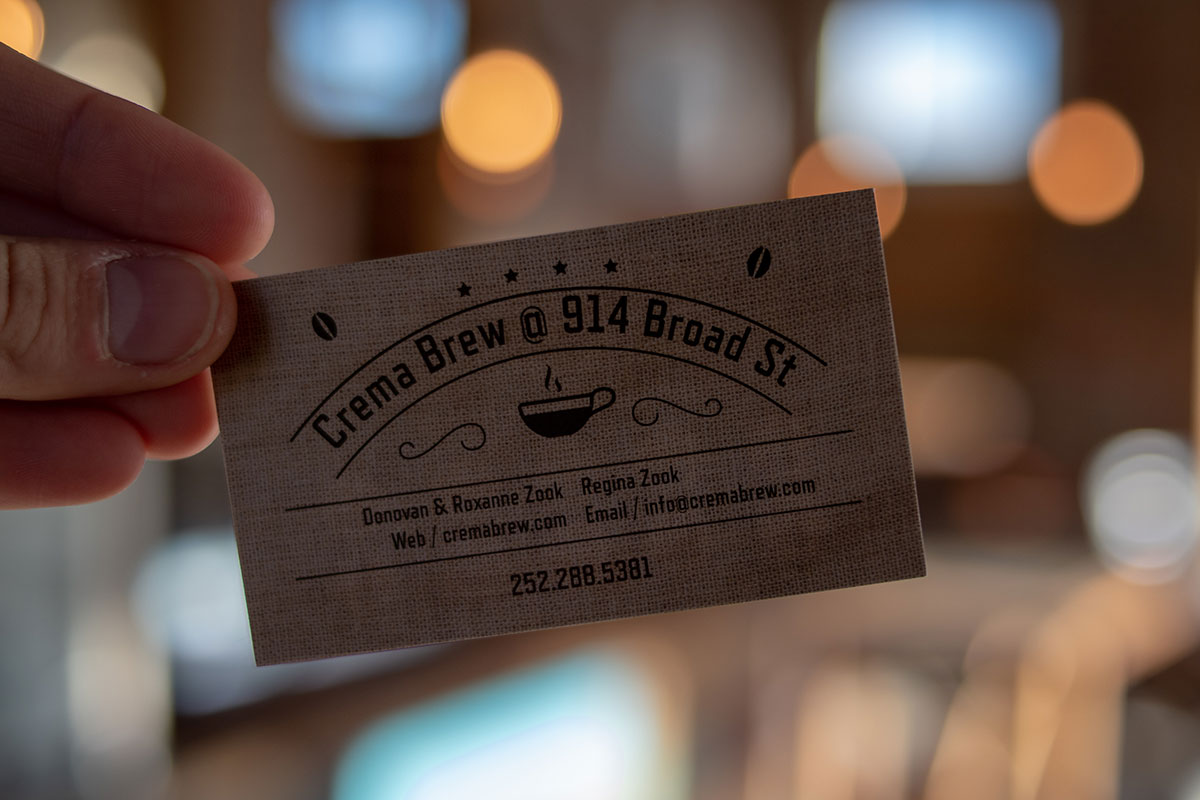 We have often been asked the question, "Why New Bern?" It was the fall of 2013. We spent a weekend in Ft. Myers, Florida, with a map, Google and God; we had the sole purpose of discerning where we should "set up shop."  That weekend we researched many cities along the eastern seaboard.  It was also on that weekend when we wrote down these two words on a large, legal tablet for the first time:  New Bern!
Finally, after months of anticipation, we set foot in New Bern on August 7, 2014, getting to see with our own eyes what we had envisioned in our hearts over the past year. And what a lovely city she is! The romantic beauty found in the heart of the Historic District drew us in. We loved that the town is named for Bern, Switzerland, the very Canton where our forefathers left for the Americas! We discovered the riverwalk that meanders along the Neuse and Trent Rivers, a tranquil path that encourages peace and reflection. We were amazed at the friendliness of the people living in this quaint city. We fell in love… and the rest is history! We are simply three grateful souls to be in this beautiful city. Our worlds are all the richer for having crossed paths, walking the same sidewalks, loving the same people, and drinking the same coffee. Humbly thankful, we are!